A young Justin Trudeau, he forgot much, but he had nice hair then too.
W
ell you did it.
You threw out the most respected government in the western world and a Prime Minister of class and dignity, despite what other faults he may have had. An economist for a drama teacher. That is what you traded for. Our country has the lowest taxes compared to GDP in half a century, economic stability and a balanced budget, security, respect from others around the world.
What was broken?
You threw this away for a cretin who admires "China's basic dictatorship." A pot-smoking imbecile. A man who has promised to raise your taxes, run a budgetary deficit, put our country in greater debt. He has no problem keeping citizenship for terrorists, women covering their faces at citizenship ceremonies or hanging around radical jihadists in mosques - hey, take a look at how many Islamists you morons just elected.
He will stop the gateway pipeline and back the malefactor in America by not building Keystone. He will sign on to every globalist environmental treaty and he is nothing more than a puppet for globalists, Marxists and the New World Order and global governance. He hates our military, he will endanger our national security.
He is a bad man.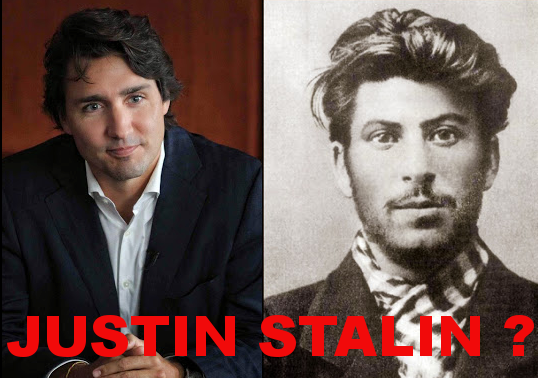 Courtesy of Barona
You elected a Marxist who will accept what those holding the strings on his mouth tell him to say. Justin Trudeau will help to usher in the New World Order and One World Government, just as our Pope as evident in Laudato si.
Worse and this is for you, you corrupted Canadian Catholics.
You elected the son of an publicly immoral psychotic mother who instead of being home with her family danced at a New York disco with her pantyless bottom exposed for all to see and photograph. His Jesuit educated fascist father nearly bankrupted our country and brought us abortion on demand and a Charter of Rights we did not need which will gave us so called "marriage" within the sexes and euthanasia for which he will not attempt to stop. He will legalise marijuana. He is an bad Catholic and moral imbecile.
And even worse.
He will do what Harper cancelled and that is use our taxes to murder the innocent in the wombs of their mothers around the world. You, my stupid, stupid idiot Canadian Catholics will be party to murder! As for here, he will prohibit any governing Member of Parliament from talking or thinking or acting for the unborn.
Read that again my Catholic friend. You voted for the most aggressively pro-baby murder government in the history of this country.
Happy now you stooges?
You elected a drama teacher.
Get ready for it.