A
few weeks ago, just before the start of the Synod, I was chatting with a priest friend. The subject of the Synod came up and the issue of homosexuality and state sanctioned, so-called marriage, between members of the same-sex and the overwhelming support for it by Catholics. I said that it is because these Catholics who support the abomination of sodomite and lesbian "marriages" are chronic masturbators. They view pornography on a regular basis alone or with their spouses or concubines and keepers. They engage in adultery themselves or have an "open marriage" and engage in "threesomes." They have experimented in the past with orgasms with someone of the same sex. They engage in sodomy in its actual and broadest sense as man and woman and as husband and wife to their own physical and spiritual detriment. They contracept, as a couple or individual. They may have had or aided the murder of their baby in the womb or they may be a closet sodomite or lesbian themselves.
They do this and they call themselves "Catholic." They may go to Mass and if they do, they surely receive the Holy Eucharist. What they do not do is go to Confession. In addition to not accepting the above as sins because they do not see them as sins, the one sin they do accept and would never want to commit is that of hypocrisy. To them, being hypocrite would be the greater sin.
After all, "Who am I to judge," they would ask themselves.
Coincidentally, the afternoon of writing the above, I found this on a Twitter feed.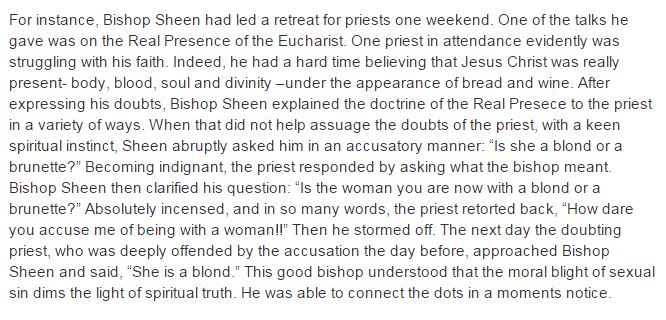 Donald Wuerl is a lot of things. He is a manipulator and a deceiver to be sure and he may be other things, but what Donald Wuerl is not, is a hypocrite as evident by this comment from Fr. V.F., which appeared overnight in the combox:

Fr. VF said...


Cardinal Wuerl is the foremost spokesman for giving Communion to abortionists in public office.




All his current arguments for giving Communion to adulterers and sodomites are recycled from his many past statements in defense of giving Communion to abortionists in public office.




He pretends that Denial of Communion is a "penalty" that exists ONLY because of canon law--i.e., Canon 915. It is not, of course. It is mandated by the moral law, because: a) a minister of Communion who gives the sacrament to a person obstinately persisting in manifest grave sin is collaborating directly in the sin of sacrilege; b) the faithful are led to believe that the sin of the communicant is not a sin. By pretending that Denial of Communion is a "penalty," Wuerl evades the REAL issue: Giving Communion to person obstinately persisting in manifest grave sin is always grave matter; i.e., a mortal sin.




By pretending that Denial of Communion is a "penalty," he pretends that he is exercising legitimate "discretion" or "prudence" or "pastoral judgment" when he gives Communion to abortionists, adulterers, lesbians, etc. Bishops DO have discretion when it comes to the application of penalties, but Denial of Communion is not a penalty.




Cardinal Wuerl's long-standing PRACTICE--giving Communion to pro-abortion politicians, self-proclaimed lesbians (Cf. the case of Fr. Marcel Guarnizo), and gay couples (at regularly-scheduled "gay Masses in Pittsburgh and Washington), etc., is the reason that he is COMPELLED to insist now that Communion be given to people living publicly in adulterous unions.
Donald Wuerl is being entirely consistent. He could never, ever be a hypocrite.
Or could he?
On his blog, Wuerl writes that, "Dissent is perhaps something we will always have, lamentable as it is." Yet, when one reads the whole post, one realises that the real dissenter, is in fact, Donald Wuerl.
Randy Engel, author of the Rite of Sodomy wrote whilst Wuerl was Bishop of Pittsburgh that, amongst:
"Pittsburgh Catholics, struggling to maintain their Catholic Faith and identity, many believe that what Bishop Wuerl has an obsession (and) a dangerous preoccupation with sex education, homosexual advocacy, multiculturalism, ecumenism, destruction of schools and parishes, feminism, married priests, politics, money, power, and suppression of the Faith."
The question then is not why is Wuerl fomenting confusion over the Synod report?
The question is, what caused Donald Wuerl to long ago accept other matters in so far as he did not see them as a barrier to Holy Communion based on Canon 915?
Or did I answer that in the very first paragraph above?
Post Script
In three weeks (November 12, 2015, Wuerl turns 75 and will offer his resignation as Archbishop of Washington to Pope Francis. He was appointed there and raised to the Cardinaliate by Benedict XVI.l He was consecrated a bishop personally by John Paul II.
http://www.catholic-hierarchy.org/bishop/bwuerl.html
For more on this. Canonist Edward Peters deals specifically with the matter.
http://canonlawblog.blogspot.ca/2009/05/response-to-abp-wuerls-claims-that.html
Raymond Cardinal Burke gave this overview in 2007.
https://www.ewtn.com/library/CANONLAW/burkcompol.htm
Phil Lawler writes about Wuerl's betrayal of Father Marcel Guarnizo
https://www.catholicculture.org/commentary/otn.cfm?id=898

Matt C. Abbott writes of Randy Engel's research into Donald Wuerl, Engel is the author of the Rite of Sodomy and the quote above can be found within.
http://www.renewamerica.com/columns/abbott/060518
Randy Engel also writes of Wuerl's support of "Dignity" Masses over a period of eight years, and his time as seminary rector.
http://gloria.tv/?media=267622&language=KiaLEJq2fBR
UPI reports that Wuerl eventually ended "Dignity" after nearly ten years.
http://www.upi.com/Archives/1996/01/30/Pittsburgh-diocese-bans-masses-for-gays/3092822978000/