H

e's so upset. He just can't handle himself around real manhood, as opposed to those in some fantasy.
The poor, poor whittle Bishop of Antwerp, Johan Bonny - smacked down at the Sodomy Synod to Destroy the Family by Robert Cardinal Sarah, Prefect of the Congregation of Divine Worship and the Discipline of the Sacraments. You know, one of those silly, narrow, bigoted Africans that "should not tell us too much what to do."
"There was no way of discussing it in a peathful way" cried little Johan Bonny when each time he raised the matter of fisting, felsching and rimming. he was smacked down, by an African.
Poor, poor whittle Johan; the big, bad Afwicans wouldn't wet him talk about his gerbils.
After all, according to Johanny, "one knows that homosexuality exists also in the world of animals" so that makes abusing them for your anal thrills just fine, eh Johan?
How often do you masturbate Johan?
How much pornography do you watch?
Straight or gay porn?
As the great Fulton Sheen once asked, "Is she blonde or is she a brunette." Or is she a he?
Which, or what is it? Because there has to be a reason for such a darkened intellect and a lack of faith.
W

hat is important for me is that Pope Francis moved tags. This greatly exited me. I can not remain a neutral spectator of these changes, I want to participate. Furthermore, everyone at some point in his life is confronted with relationships, friendships, family and the education of children. We must not deny that there is trauma about these matters in the Church. Far too many people have felt excluded for a long time. The Church can fix the breach of trust by talking openly and sincerely about the issues which are really bothering people...
As bishops, we have too long thought it impossible to discuss some lessons or disciplinary rules: we have acted pragmatically to avoid damaging the Faith. Thus, a gap has widened between the Church's official teaching and daily practice...


Before Francis, there was an official status quo about these topics and very few opportunities for discussion. In less than two years, the Pope has managed to get a discussion started about these issues...


Personally, I find that in the Church there should be more openness for the recognition of the substantive quality of the LGBT couple. Their form of shared life must meet the same requirements as religious marriage. Basic values are for me more important than the institutional form. Christian Ethics champions lasting relationships in which faithfulness, loyalty and care for each other are central; and which are open to new life, or at least recognise the responsibility of the partners to be generous towards children and young people. We must accept that those values may be present in a relationship of diversity and we must try to give form to these relationships...


We need to seek within the Church for a formal recognition of the "relationality" which is as present in many couples which are homosexual as in those which are heterosexual. Should it be a sacramental recognition of marriage? Maybe the Church should instead think about recognising a diversity of patterns.


This discussion is the same for civil marriage. In Belgium, the same model is used for gender relations of homosexual and heterosexual couples; but there are other possibilities, which I believe are valid. It may not be necessary to force all relationships into the same model...


Just as there is in our society a variety of legal frameworks for partners, so the Church should recognise a diversity of relationship forms. This would avoid the pitfall of complex ideological disputes. I favour the recognition of a variety of forms which emerge from a reflection on pastoral experience, rather than theoretical discussions; because they often degenerate into sterile disputes and generate discord...


Life is a practical thing, is not it? Such issues can only be dealt with credibly if humanity and understanding are exercised; not by theoretical discussions. The same dynamic is active in the Church. The ecclesial community is a big family and my main concern is how to encourage this style of response. I do not want to downplay the significance of the doctrinal issues; but... I also want to keep the family together. I want all the family members to celebrate Christmas together and form a united community.
[J. Bonny in "De Morgan" 27th December 2014]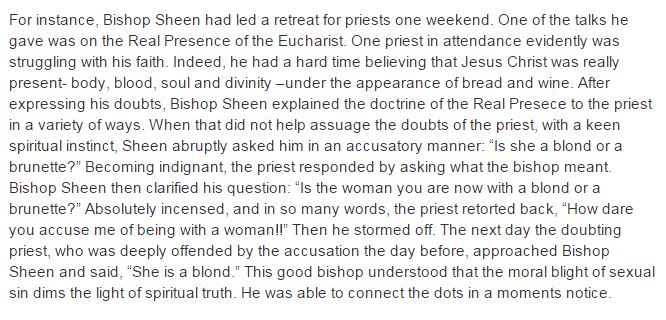 On animals as faggots
http://voxcantor.blogspot.ca/2015/09/is-bishop-bonny-sodomite-is-he-being.html
On the "ordaining" of married men and even women
http://vaticaninsider.lastampa.it/en/blog-san-pietro-e-dintorni-en/detail/articolo/celibacy-antwerp-womens-ordination-14375/
On proportionalism and conscience
https://www.lifesitenews.com/news/belgian-bishop-urges-synod-to-adopt-moral-relativism-charges-pro-family-gro
Heresy
http://ncronline.org/blogs/ncr-today/francis-effect-goes-beyond-laypeople-pews
I can't wait until Francis makes this heresiarch Primate of Belgium and Archbishop of Brussels, it will be as much fun as Wuerligig.