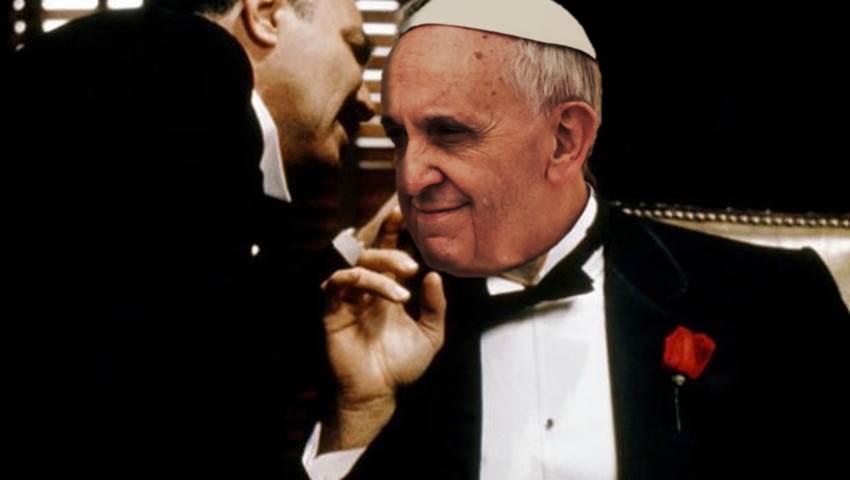 VATICAN CITY (CNS) -- The leadership of the Order of Malta denied the legality of a Vatican investigation into the forced resignation of the group's former grand chancellor, but the commission established by Pope Francis said it "is completely legitimate and authorized" to investigate the matter and inform the pope.
According to one of the legal notes prepared for the commission, the pope's right to be informed of the circumstances surrounding the removal of Albrecht Freiherr von Boeselager relates "to the authority he exercises directly and immediately over all baptized faithful, whether lay or clerical."
http://www.catholicnews.com/services/englishnews/2017/order-of-malta-questions-legitimacy-of-commission-established-by-pope.cfm
"Direct and immediate authority?" which Bergoglio possesses
"over all baptised faithful?
What kind of

clericalist

, fascist idiot would actually write such

preposterous thing to the any Catholic, group or individual without clarifying that it begins and ends with doctrine and discipline?
The matter with the Knights of Malta is administrative, not doctrinal. The Pope has no business interfering. Let Rome dare say that "we established" and approved Knight of Malta charter. Well, the Italian Republic approved the treaty creating the Vatican City State too.
Shall Italy revoke it?
For more on the Knights of Malta, I direct you to this essay by Dr. Roberto de Mattei, translated at The Eponymous Flower.
A reader has brought to my attention, this, from Denzinger:
If anyone thus speaks, that the Roman Pontiff has only the office of inspection or direction, but not the full and supreme power of jurisdiction over the universal Church, not only in things which pertain to faith and morals, but also in those which pertain to the discipline and government of the Church spread over the whole world; or, that he possesses only the more important parts, but not the whole plenitude of this supreme power; or that this power of his is not ordinary and immediate, or over the churches altogether and individually, and over the pastors and the faithful altogether and individually: let him be anathema." (Denzinger 1831)
Well then, c
areful my fellow Catholics, this Peronist Fascist will soon be declaring his authority over your property and your pension or he will excommunicate you.
These malefactors are nothing more than a bunch of coprophiliacs in clerical dress, if you ask me.
"Anathema?" Yeah, right. They love the law, these Roman hypocrites - they interpret it for their friends and they apply it to their enemies when it suits them.
Gosh, and he was such a cute kid, too.