A

few days after being elected, Bergoglio spoke before the assembled media in the Paul VI Audience Hall. I recall that he refused to bless them because they were not all Catholics and he said that he would not provide a blessing because he respected their consciences. I have no time to look up a transcript or video of the event, if someone can, please leave it in the comment section.
Today in Sicily, he did it again. He refused a pontifical blessing so as not to offend the "many non-Catholic Christians, those of other religions, and the agnostics."
Yet, he himself has no problem being "blest" by a layman.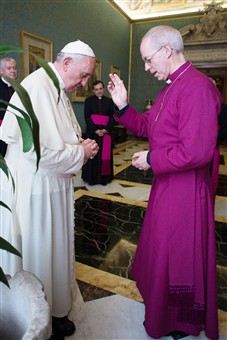 He denied Catholics the right to the pontifical blessing and denied those non-Catholic Christians, agnostics and others the opportunity for grace to be poured out that might lead to their conversion.
Did I say the man is truly evil?