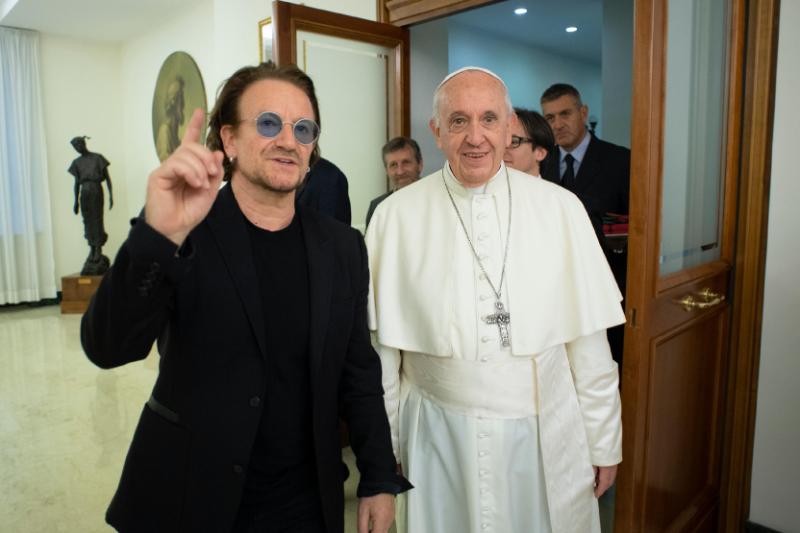 I

t was only a few months ago, that the ageing, hair-dying rocker of U2 known as Bono was in Ireland advocating for the killing of babies. Yesterday, he was in the Vatican to meet with the Bishop of Rome.
It is two years since the Dubia was issued and two of the Cardinals are dead, Bergoglio has still not responded or met with those two remaining regarding the matter.
Bergoglio likes to meet with celebrities such as Bono and Leonardo DiCaprio and abortionists such as Emma Bonino, he does not like to meet with Catholics. Bono says that they spoke about the "wild beast of capitalism" and that Bergoglio is "aghast" over the sexual abuse crisis, saying, "You can see the pain in his face, and I felt it was sincere," and that they spoke about Bergoglio's "feelings" over the crisis.
"Feelings."
Jorge Mario Bergoglio is an evil man. He hates you, he hates me, he hates Our Lord Jesus Christ. If he did not hate us and Christ, he would not do that which he does. By meeting with Bono, he has caused scandal amongst the faithful and those Catholics, particularly in Ireland now, who have so long worked to prevent or end the scourge of abortion.
The man is evil.
May God in his great mercy rid us of this filthy man soon and send us the pope we need, not the one we deserve.