In a move that can only be considered spiteful, the Bishop of Rome has cancelled the Consistory meeting of the College of Cardinals which is typically held when new Cardinals are installed. The new Cardinals will be presented with their red hats and celebrate a Mass the next day.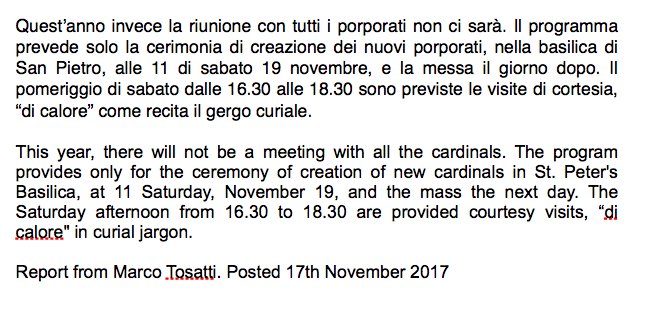 Bergoglio has no fear of the four Cardinals. He is mocking them. He is giving them and "I'll show you who's in charge," moment. Yet, he knows that if they meet, as a group, the matter of the letter and doubts would come up and answers would be expected. Bergoglio does not fear these Cardinals. He despises them. If he did not, he would have already responded.
http://www.ewtn.co.uk/news/holy-see/in-wake-of-rejection-of-dubia-pope-francis-cancels-meeting-with-cardinals
The man is a disgrace. He has promulgated heresy; we have expected this for two years and six months ago, he proved it. He confirmed the heretical and sacrilegious portions of Amoris Laetitia in his letter to the Bishops of Buenos Aires and the implementation of Holy Communion for adulterous couples in the Diocese of Rome as announced by the Vicar or Rome.That, could not have been done without Bergoglio's knowledge and approval.
http://www.onepeterfive.com/the-dictatorship-of-mercy/
Make no mistake, the Church is in the greatest crisis since the Protestant revolution. No Bishop of Rome has behaved in such a despicable way towards the Truth since John XXII and he was declared a heretic, before repenting of his heresy on his deathbed.
Bergoglio must be rebuked; and don't be surprised if he strips the four of their red hats!