T

wo nights ago, Father Frank Pavone appeared live on social media at an altar to talk about abortion and the election. On the altar, Father Pavone had placed the dead, saline burned body of an aborted baby - a body intact and of late term.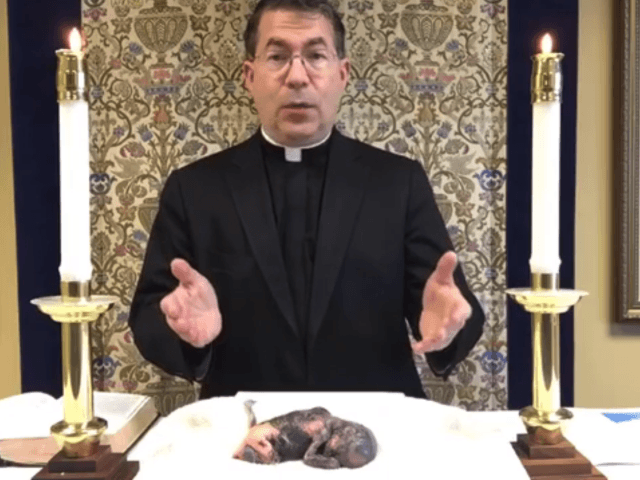 Father Pavone has come under criticism for doing this. Ed Mechmann, director of public policy for the Archdiocese of New York, said the use of an aborted baby 'as a prop' is 'absolutely appalling, and deserves to be repudiated by all of us who consider ourselves to be pro-life in the fullest meaning of that word."
Coming from anyone in power in New York, that's rich.
Matt C. Abbott at RenewAmerica has Father Pavone's response to this criticism.
For what it is worth, this blogger supports Father Frank Pavone and publicly thanks him for his work on behalf of the murdered, butchered children.
Placing the baby on the altar evoked, in my mind, the very sacrifice offered there to the Father. The Son was sacrificed on Calvary and re-presented on the Altar. The child was presented to God on that Altar and their soul presented back to him. The baby's suffering, in the great mind of God, was in unity with that of Christ. It was innocent blood spilt for greed and selfishness. It parallels the innocent blood spilt by Christ.

AS FOR YOU TROLLS ATTACKING THIS WRITER OVER THE LAST FEW DAYS:
Vade retro satana
For a properly consecrated altar, as below, the candles and flowers are placed on the gradine, not the consecrated altar. Clearly, the supreme lawgiver doesn't care about the GIRM in the nervous disordered Missal and has absolved himself from any law in order to place upon this true altar, the Holy Beachball. While I cannot be certain, that used by Father Pavone, seems to be a private chapel and a table, not a properly consecrated altar. This is not a Mass and it was done to focus attention on the dastardly matter of abortion and the position of one of the candidates for President of the United States.
If you're not offended by the pathetic, disgraceful and blasphemous action of what Bergoglio did below after returning from WYD Rio, then you have a problem with your understanding of Catholicism. What does this photo say about this Jesuit's respect for the Altar?
These who have risen up against him are comfortable Catholics who want a comfortable faith. They would burn incense to Ba'al if it kept them in their comforts, and they often, do.
Perhaps this was an error in judgement on the part of Father Pavone, that is a debatable point. But given his tireless work for the unborn and his faithfulness to his calling, I will not throw him under the bus; something being done by the paid "catholic" bloggers and so-called, journalists out there who will have no problem voting for the devil.
God bless Father Pavone and confound those who shy away from the Truth.
My American friends, read the post below before you vote.
And where is your outrage over these, I can find more!