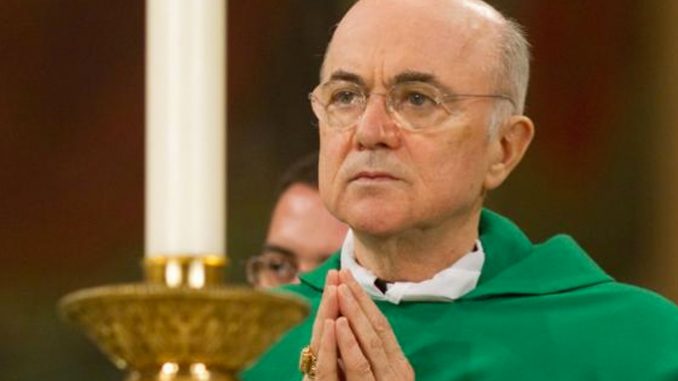 T

he media sycophants of Pope Francis, secular and Catholic have been targetting Archbishop Carlo Maria Viganò, -- just what we expected. One issue that has been dragged up, is the accusation that as Papal Nuncio, Viganò, did not prosecute a case in Minnesota under former Archbishop Neinstadt, who himself has been accused of having an active "gay" lifestyle.
I did not know much about this case, or about the former Archbishop's dalliances. What I do recall, is he seemed to come into the Archdiocese and began to take a broom to liturgical abuse and dissenters.
Carl E. Olson of Catholic World Report has an interview with Viganò who denies the accusation.
https://www.catholicworldreport.com/2018/08/27/archbishop-vigano-responds-to-criticisms-of-handling-of-2014-nienstedt-investigation/
also
https://www.lifesitenews.com/news/vigano-issues-new-statement-documents-to-clear-his-name-of-false-charges
"I never told anyone that Greene Espel should stop the inquiry, and I never ordered any document to be destroyed. Any statement to the contrary is false. However, I did instruct one of the auxiliary bishops, Auxiliary Bishop Lee A. Piché, to remove from the computer and the archdiocesan archives the letter falsely asserting that I had suggested the investigation be halted. I insisted on this not only to protect my name, but also that of the Nunciature and the Holy Father who would be unnecessarily harmed by having a false statement used against the Church."
If Viganò covered something then, he was wrong, though he may have been ordered to so or it may have been a failing on his part, - if, it is true. If he did, it really does not matter. What matters is what he has stated in his Testimony and that the Pope himself has refused to answer it.
The news is no coming so very fast. Now, we have a report that the Irish media was instructed to hide the report from the people!
Who did this?
https://www.lifesitenews.com/news/irish-media-purposely-withheld-reporting-on-vigano-testimony-during-po