P

erhaps some of our readers saw this picture last evening surface on Twitter. It is of Cardinal Raymond Burke and Bishop Athanasius Schneider speaking before a packed room in Rome's Centro Lepanto.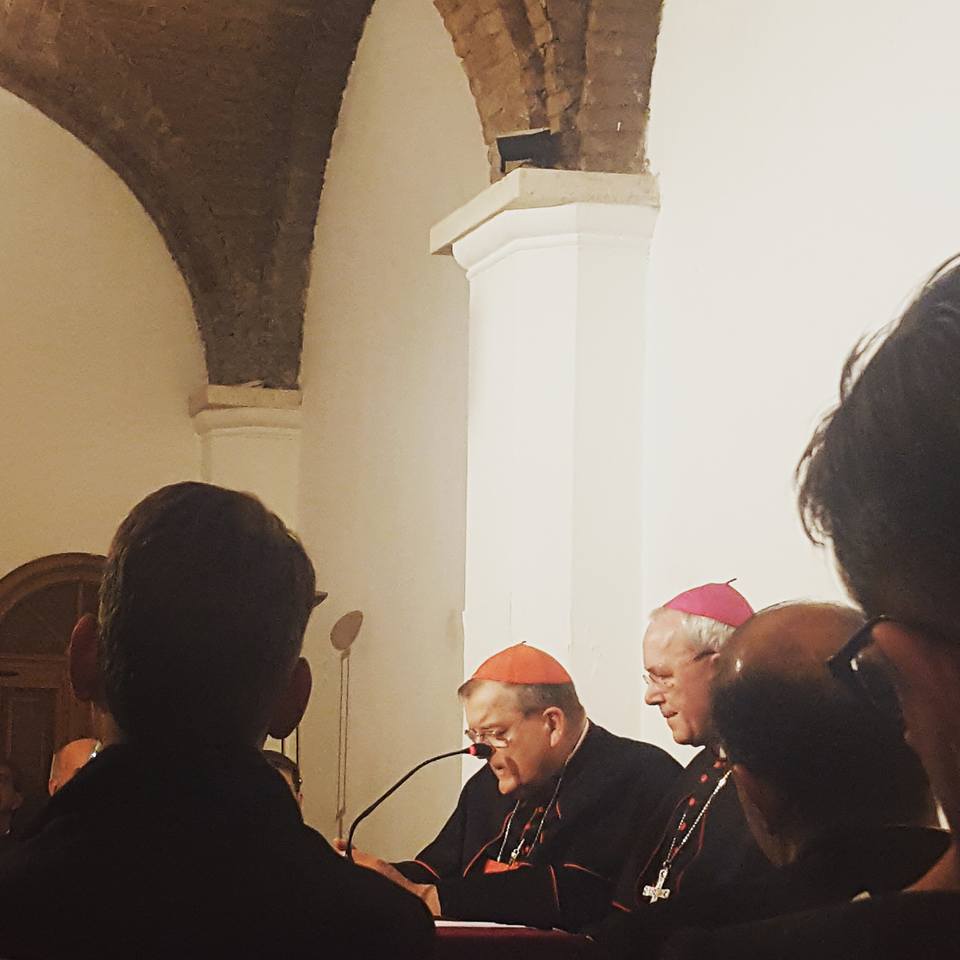 You can bet that it was all over Rome, that which was discussed, before those thugs, minions and hangers at the Vatican settled down for a rub down at one of Rome's more particular establishments with their gaystapo boytoys.because they sure weren't praying their Office or doing a Holy Hour! Why, you ask? Because if they did these things, they would not do what they do.
Courtesy of LifeSiteNews, here are the key quotes:
"When Christ preached 2,000 years ago, the culture and reigning spirit were radically opposed to Him. Concretely religious syncretism ruled, also Gnosticism among the intelligent leaders, as well as permissibilism among the masses — especially regarding the institution of matrimony. […] The sole purpose of the Son of God was to reveal the truth to the world."
"The formulation of dubia, as the Cardinals here have expressed in their own terms, has been a common practice in the Church," he explained. "We need to be able to ask questions openly without being afraid of repressions."
"The reaction to the dubia is a proof of the climate in which we actually live in the Church right now," Bishop Schneider said. "We live in a climate of threats and of denial of dialogue towards a specific group."
"dialogue seems to be accepted only if you think like everyone else - that is practically like a regime."
+Schneider brought up his experience in Russia, where he was born in the time of the Soviet Union. His parents were sent by Stalin to work camps, or "Gulags," after the Second World War. "If you didn't follow the line of the party, or you questioned it, you couldn't even ask. That is for me a very clear parallel to what is happening now in the reactions to the dubia — questions — of the Cardinals."
"This is a very sad experience especially since everybody is speaking about a 'dialogue of culture' after the Second Vatican Council. While bishops openly teach heresies and nothing happens to them, that is truly a grave injustice and very sad," Bishop Schneider added.
Cardinal Burke is quoted:
Cardinal Burke has said a "formal correction" might be in order to resolve the situation of uncertainty. "In the language of moral theology, fraternal correction is an act of love — if it is given in obedience and with reason," Schneider commented. "We have to return to this familiar way of dealing with it."
As I wrote yesterday, they are "mad" in the sense of angry and deranged that we will not stop exposing the lies and manipulations that began at the first Synod, continued into the second and continue today.
The deal breaker for these Cardinals, in my view. was when Bergoglio confirmed the heretical statement by the Bishops of Buenos Aires compounded by those of the Vicar of Rome.
Bergoglio cannot hide from this. He must answer the dubia which will either nullify his attempts to change Divine Law on Holy Communion or expose himself as a heretic.
That's it friends, there's just no other way around it.
Make a mess, indeed.