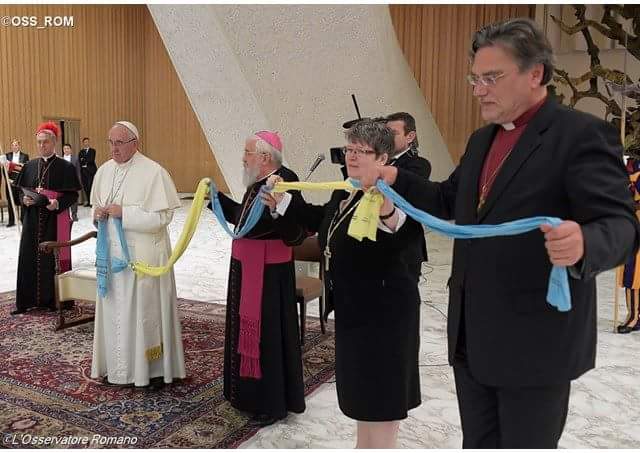 B

ergoglio has, with his own words, condemned himself and set himself against his predecessors.
"It is not right to convince someone of your faith," says this Bergoglio.
"Go therefore and teach all nations," said Jesus Christ.
Who do you choose?
Are you a Christian or a Papolater?
In an address yesterday, the 99th anniversary of the Miracle of the Sun at Fatima, Bergoglio stated that proselytism is "venom" and a "threat to Christian unity."
How illogical can he be? He must repent of this error.
What a betrayer of Our Lord Jesus Christ and His cry, "that they all be one." One in Him! One in His Church. Lutherans as individuals must come home, along with Anglicans, Presbyterians, Evangelicals, Eastern Orthodox. How can they come home when Popes preach to them to stay where they are? Why would the Orthodox desire union with Rome when it is overseen by a cabal of malefactors and heretics!
It is only through proselytism, with clarity and charity, that we will achieve "Christian unity."
Martin Luther has led millions of souls to Hell. There is no salvation outside of the Catholic Church. Should God choose to save those who are not Catholic is up to Him and beyond our knowledge of certainly. What we do know is that it is only by being baptised and in the bosom of the Catholic Church, can we be saved. Vatican II did not change this, notwithstanding its ambiguity and pastoral overtures.
This Bergoglio would rather see Lutherans continue on their path of error following a heretic priest in his blasphemy than come home to the One True Church.
The time has long since passed for a denouncement of this Pope.
What a disgusting and sickening display, a statue of Martin Luther together with the Bishop of Rome. A heretic. A blasphemer. A fornicator who led millions of souls in Hell.
As Brian wonders in the combox, will he dare to lift the excommunication of Luther?
God help us all.
(ANSA) - Vatican City, October 13 - Pope Francis told a group of mostly Lutheran pilgrims on Thursday that proselytism was a potential threat to Christian unity.
"The last thing you must do is 'to say, to convince'. It's not right to convince someone of your faith," he said.
"Proselytism is the strongest venom against the path of ecumenism".
The pope was speaking to around 1,000 pilgrims in the Vatican - most of them German Lutherans - who are in Rome as part of ecumenical preparations for the 500th anniversary of the beginning of the Lutheran reformation.
"The Apostle Paul tells us that, by virtue of our baptism, we all form the one Body of Christ," the pope said.
"The different members, in fact, are one body. This is why we belong to each other and when one suffers, all suffer, when one rejoices, all rejoice. Let us continue with confidence on our ecumenical journey, because we know that, beyond the many open questions that still separate us, we are already united.
What unites us is much more than what divides us".