M

y ancestors were native to Mount Lebanon. The blood that runs in my veins is Lebanese which is mainly of the Canaanites and Phoenicians of the ancient world. My grandparents all came from Maronite villages on Mount Lebanon. Their language evolved from the ancients to Aramaic and then to Arabic. The Syrian people are cousins, they spoke the same language, share the same history and underwent the same arabisation. Yet, for the most part, Christians and Muslims in Syria lived peacefully, provided they were left alone.
The Ottomans dominated for centuries until after the collapse following the Great War in 1917. Sykes-Picot and the Balfour Declaration carved up the Middle East creating many of the problems at hand today.
The blood on the hands of our western leaders is immense. European and American and we in Canada will have much to account for. Our ancestors drew lines and created artificial borders for oil and politics. We continue down that same destructive path.
Basher Assad may not be our idea of a liberal democrat. Frankly, the last time I looked, which of our western liberal democratic leaders do we really think serves the interests of the people to say nothing about the Social Kingship of Jesus Christ?
Assad is a cultured and educated man who cares deeply about his people. He has attempted to build a nation-state for all. He has refused to bow to America and Europe and the degenerate House of Saud and what has it gotten the people?
The propoganda against this man and his wife is immense.
I am not justifying military means on one's people, but; who created this problem that a government was forced to take extreme action to keep its nation united? Who undermined the legitimate government?
The United States of America went to civil war, a brutal civil war that cost more American lives than any other in history. The Confederate States of America were aided by foreign powers. It even had a friend in the Pope!
Americans went to war and killed its own citizens to prevent a disunion of the nation. What hypocrites these American leaders are!
Is this man a monster?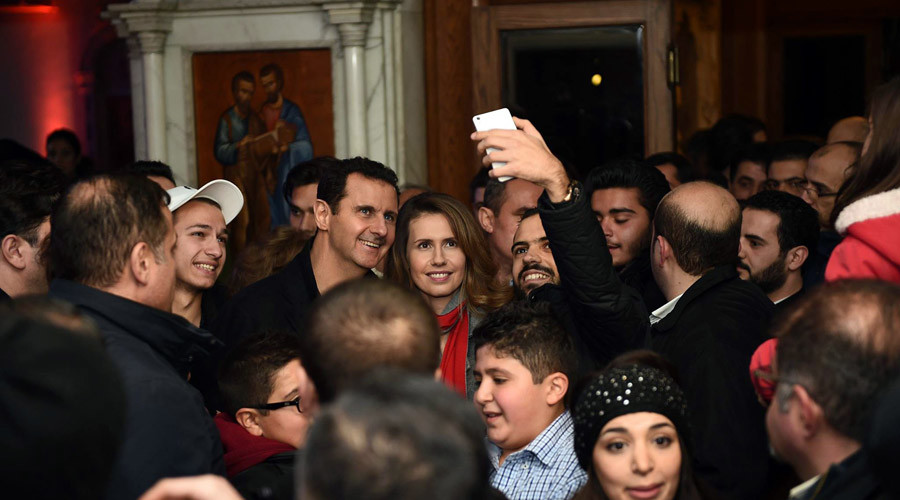 Is this a man hated by his people?
Americans, Canadians, Europeans! There is a war on for your mind!
The situation in Syria is a disgrace and the blood is on our nations in the West. There is one country that is operating legally in Syria and that is its long-time ally, Russia.
Russia is not my enemy!
Assad is the legitimate President. It is not up to America to determine that he is not. George Bush and then Barack Obama and Hillary Clinton, Cameron his predecessors, Harper in Canada have destroyed these countries, killed hundreds of thousands, if not millions in the process. Now, we the people are expected to take in the refugees who have little to contribute and may in themselves, contain the seeds of revenge in our own streets for the murderous folly of our governments.
Christians were not dying under Assad. Syrians were not in civil war until foreign operatives and mercenaries funded by the Saudis, Europeans and North Americans destabilised the nation.
We will be chastised and very soon.
Now, we are in moving closer to a showdown with Russia, over Syria. Why is your media not reporting on this?
+ + +
Failure to Accept Russia's Position in Syria Inching US Closer to War
In recent weeks, officials of Western governments have engaged in a dramatic escalation of rhetoric condemning the Syrian and Russian governments for alleged war crimes that have occurred since the collapse of a UN-backed ceasefire in late September.
The escalating charges aimed at Russia and Syria, reinforced by well-orchestrated media campaigns propagating official talking points, are familiar in the sense that such attempts to mould public opinion have traditionally been a precursor to Western military interventions.
Western and Gulf states have been unequivocal about their intention to topple the government of Syrian President Bashar al-Assad, presumably to replace it with a client regime that would maintain an adversarial relationship with Russia, Iran and various political forces associated with Shia Islam.
On the ground, the Syrian military, supported by Russian, Iranian and Lebanese Hezbollah allies are on the path to military victory over the rebel-held east of Aleppo, which would mark the restoration of government control in all of Syria's largest population centres.
Insurgents that have been armed and supported by the United States are now besieged in eastern Aleppo fighting Syrian government forces in coordination with jihadist militants, including the al-Nusra Front, the former Syrian wing of al Qaeda that Washington itself classifies as a terrorist organisation.
Some 270 thousand civilians are besieged alongside the militants controlling the area. Though the ongoing offensive has undoubtedly put the civilian population of the area at risk, larger questions about the fighting in Aleppo have hardly been raised by Western media.
The dominant narrative about Aleppo asserts claims that Syria and Russia are 'deliberately bombing schools and hospitals to kill civilians' or maintaining a siege to 'break the will of the population'.
Almost no serious questions are asked of the rebel leadership in control of eastern Aleppo. The insurgents' routine shelling of government-held western Aleppo – where the vast majority of the population, reportedly 1.5 million, reside – is hardly reported.
It must be recognised that the primary armed opposition fighting in eastern Aleppo and elsewhere are jihadist insurgents who have either superficially distanced themselves from the al-Qaeda brand or openly associate with it. More so, it is common knowledge that these groups have committed beheadings and heinous rights abuses.
Given the ferocity of Russian and Syrian airstrikes, why haven't more civilians attempted to leave eastern Aleppo? UN Syria Envoy Staffan de Mistura claimed that Jabhat Fateh al-Sham, the rebranded version of al-Qaeda's Syria affiliate, is holding 'hostage' the civilian population of east Aleppo.
From a humanitarian perspective, it is pertinent to question the effectiveness of the forceful approach taken by the Syrian and Russian militaries. There is a precedent for a non-violent solution to the situation, advocated by De Mistura himself.
In August 2016, a deal between government forces and militants ended the four-year siege of the Damascus suburb of Daraya. Civilians were evacuated and militants were bused to rebel-held areas in northern Syria without surrendering their weapons. This took place with the full cooperation of government forces.
De Mistura has offered to personally accompany the jihadist fighters out of eastern Aleppo, while other (allegedly 'moderate') insurgents and civilians remain under conditions of a ceasefire. The botched September 2016 ceasefire also sought this outcome, a key condition being that US-backed rebels divorce themselves from jihadist al-Nusra fighters.
It is clear that expelling these jihadist forces is the prerequisite for quelling the fighting in Aleppo, but there is political resistance to this outcome from Western and Gulf states because it would imply the surrender of anti-Assad groups and the impotence of their regime change objectives.
Moreover, as Syria's largest city, Aleppo represents a major strategic prize. If captured, the foreign-backed opposition could establish an alternative Syrian government, which Western and Gulf states would then treat as the sole legitimate government.
The battle for Aleppo has been characterised as an 'existential crisis' for the mainstream anti-Assad forces. Should the Syrian government retake eastern Aleppo, it would deal a devastating blow to regime change efforts, but it would not mean a decisive end to the war. Kurdish forces have maintained their hold over parts of Syria, while the Islamic State continues to hold much territory.
That being said, the United States, Turkey, Saudi Arabia and others have invested enormous political capital to regime change efforts in Syria. Washington is determined to avoid a costly and humiliating defeat in Aleppo and is currently reviewing measures to shore up its proxies.
Among the options under consideration is the establishment of a no-fly-zone and safe zones, staging attacks against the Syrian air force and arming the Syrian rebels with additional weaponry. Should the US attempt of these options, it would directly violate international law.
The United States is not technically at war with the Syria, nor is there a UN resolution authorising American forces to operate inside Syria's borders. Establishing a no-fly zone over Syrian airspace, safe zones within Syrian territory, or US military attacks on the Syrian air force and its bases would directly constitute an act of war against Damascus – and by extension, Moscow.
The Washington Post reports:
'There's an increased mood in support of kinetic actions against the regime,' one senior administration official said. 'The CIA and the Joint Staff have said that the fall of Aleppo would undermine America's counterterrorism goals in Syria.''
"One proposed way to get around the White House's long-standing objection to striking the Assad regime without a U.N. Security Council resolution would be to carry out the strikes covertly and without public acknowledgement, the official said."
It is deeply alarming and baffling that the US leadership has here equated the fall of the jihadist-occupied Aleppo as harmful to counterterrorism objectives. Should moral outrage be directed at any side, it should not be toward the Syrian and Russian governments, who are attempting to restore legal order over Syrian territory, albeit by controversial means.
Rather, it is the United States and its European and Gulf allies that have forged an alliance with terrorist organisations in an attempt to destroy an independent-minded secular nationalist government promoting a pluralistic and inclusive form of Islam that should most beget public condemnation.
This would certainly be the case if the Western public at large ever truly absorbed the gravity of what their governments have done in Syria. It is unlikely that President Obama would concede to a major military escalation during his final months in office, though the possibility remains.
Hillary Clinton, who will presumably become the next US president, publically supports the establishment of a no-fly zone in Syria and has openly stated her number one objective in Syria is the removal of Bashar al-Assad's government.
Russia has begun to deploy advanced anti-missile and anti-aircraft systems in Syria. Trust between Russia and the United States has entirely eroded. Russia is holding the cards in Syria and it is difficult to imagine how open conflict can be avoided should the US pursue an escalation. The seriousness of this moment should not be understated.
Nile Bowie is a political analyst based in Malaysia who has written for a number of publications, his expertise lies in a number of areas, with a particular focus on Asian politics and geopolitics, especially for the online magazine "New Eastern Outlook".
http://m.journal-neo.org/2016/10/20/failure-to-accept-russia-s-position-in-syria-inching-us-closer-to-war/