T

hose in leadership in all walks of life in government, academia, business and even the Church tell you that gender is fluid and that a boy born a boy can really be a girl or whatever, this is what they leave out.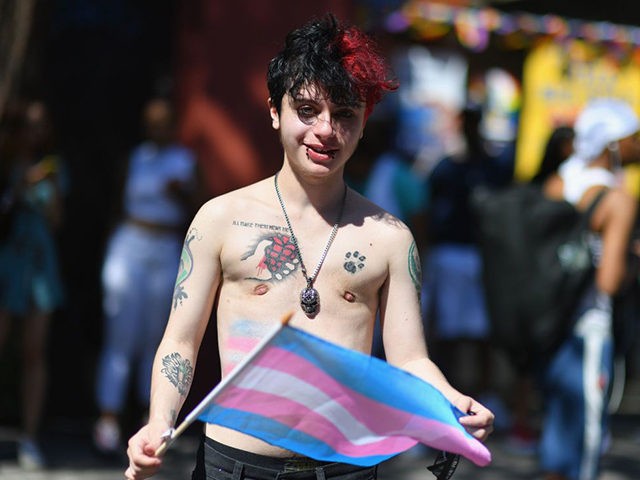 They are evil.
What parent permitted this?
What authority figure affirmed it?
What doctor performed it?
There was a time when we took mental illness seriously. Now, we simply affirm delusion and if you don't agree with it, you're a hater. There was a time when we would have taken the doctor that butchered this poor girl and removed his license and then put him on trial and the parent would have been arrested for child endangerment and the child taken into protection by the State. Now the State endorses it and demands you accept it as right and just.
Yes, this IS a girl. This poor girl needed help. She needed love, she needed therapy, psychological and spiritual. She deserved care and protection to work through whatever delusions she had that caused her to think herself as a boy. Instead, she was used by an anti-Christ fascist mob for their political ends and will endure suffering the rest of her life that she cannot yet comprehend.
Lest you think this is not occurring on a large scale, dozens are raising money for what they now call, "top surgery."
https://www.gofundme.com/mvc.php?route=homepage_norma/search&term=top%20surgery
Walt Heyer found out the truth.
http://waltheyer.com/
Thanks to a reader for this. Notice, the first person interviewed, "Billy," was "fondled" as a confused boy. Perpetrating perverts can sense who is the weak one, who is the target, then the go after their prey. They take a confused child and groom him or her to be one like them. Note that the second one, "Rene" had an absent and alcoholic father. Walt Heyer is also interviewed, he had a crazy grandmother who cross-dressed him and later was sexually abused. Is there a theme here?
And this is what our leaders in government, academia, industry, church and state think is good and fair and just.
God will deal with them friend. In every way.