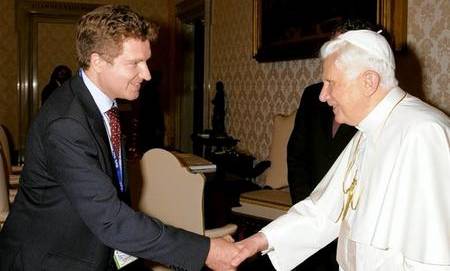 Edward Pentin with Pope Benedict XVI
I

f the name Edward Pentin is not familiar to you, it will be. When Cardinal Kasper made his infamous quip during last October's Synod on the Family a
bout Africans, that they "should not tell us too much what to do" it was to Edward Pentin. You may recall that Kasper then denied the comment and after admitting to it tried to discredit the journalist. Quite the act of charity by a Prince of the Church, it was.
Pentin has spent over a decade working, monitoring, reporting and consulting on the Vatican and Catholic issues. This is a respected journalist and his work has been in such publications as The Sunday Times, Newsweek, Foreign Affairs, Newsmax and the National Catholic Register as well as appearances on a range of broadcasters.
Pentin's credibility has never been questioned except by this German Cardinal. Kasper, you'll recall, has for over a year under this Pope received special consideration for his "mercy" philosophy notwithstanding his mostly heterodox views on marriage and the Eucharist that puts him at odds with St. John Paul II and Benedict XVI and the Church's doctrine only to be lauded by Francis.
Pentin has reported in the National Catholic Register of what appears to be the beginning of a stacking of the deck for this October's Ordinary Synod on the Family, the second part to the disaster we faced last October.
He has done the research and provides the documentation at the link below. Two of note are a Synod appointee with links to Kasper, and a professor intent on reforming the image and theology of the reprimanded Teilard de
Chardin. Next we have an underling of Archbishop Bruno Forte, the author of the homosexualist innovation in the Relatio Report and a Jesuit professor who advocates "sharing" of the Eucharist.
Pentin's article is a must-read and a call-to-action if we can borrow that phrase for what lies ahead of all of us.
As some point, we are not going to be able to hold back any longer and we might be keen to ask, "
Holy Father, what are your intentions?"
http://www.ncregister.com/blog/edward-pentin/is-the-synod-secretariat-stacking-the-deck-again?utm_source=feedburner&utm_medium=feed&utm_campaign=Feed%3A+NCRegisterDailyBlog+National+Catholic+Register#When:2015-03-14 20:24:01