O

ne could blog nearly daily on the ravaged mind of James Martin, S.J., and the perverse, corrupted doctrine he bleats on Twitter, Facebook and in various media publications. Martin has been covered numerous times on this blog. Lately, I've avoided writing and instead, just end up shaking my head in disgust and in sadness for what this poor sick man has become.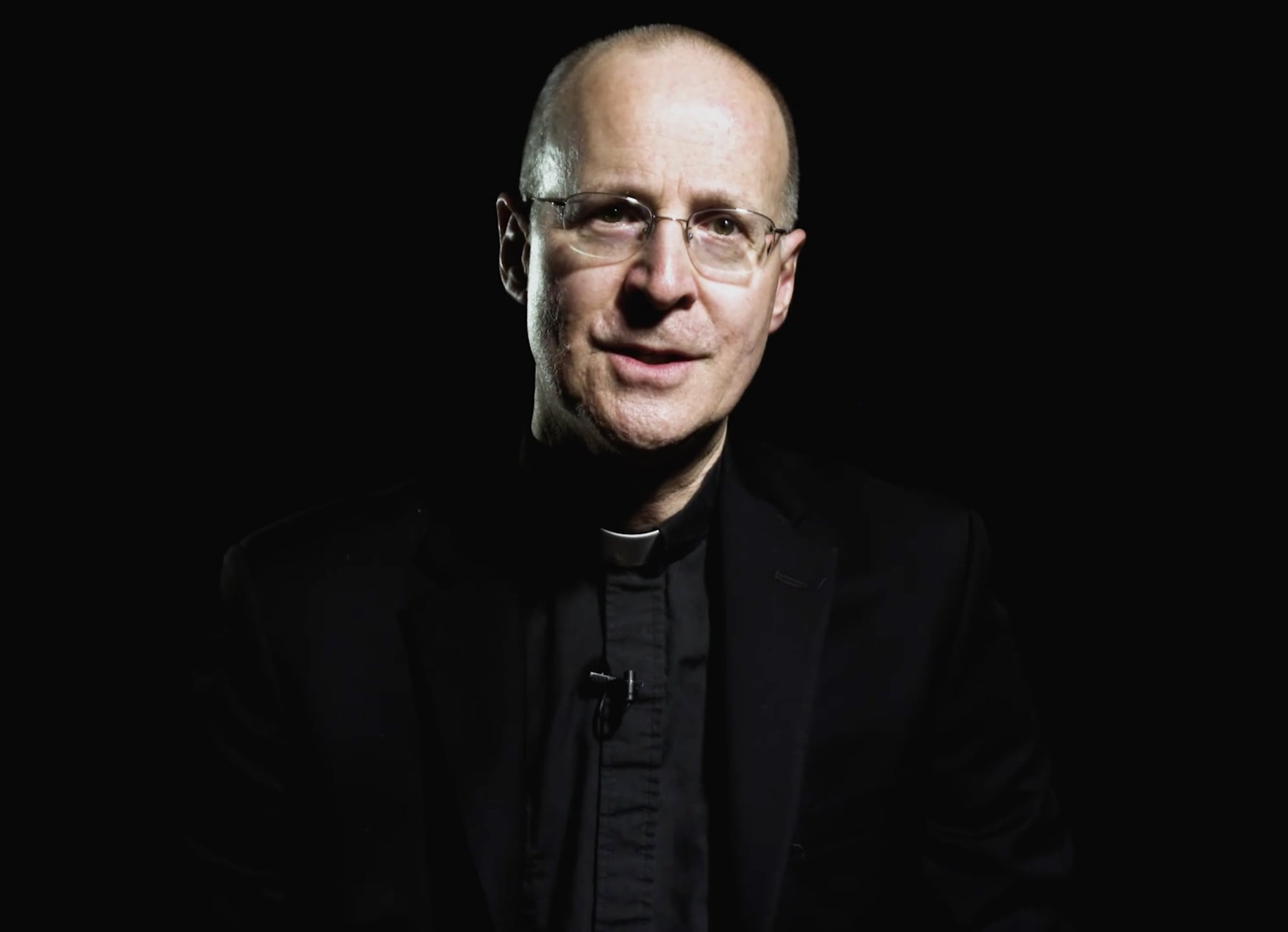 Given his volume of activity on social media, one could rightly ask, "Does this priest ever pray his Office, or Rosary, does he spend an hour in adoration?" I think the answer must be, "no." How can it be otherwise?

If a priest was rising early to read his Office and praying, and ministering to souls, and offering Mass well and hearing confessions, how could he have time to be as active on social media as Martin? How could he write that which he does in what can only be described as a pathological, deranged and obsessive promotion of

homosexualism

and an outright rejection of the Church's teaching on the grotesque sin of sodomy, effeminacy and same-sex behaviour.
In a recent interview at Fordham University, Martin has gone perhaps further to reveal the severely deranged and poisoned mind to the point where it can only be concluded that James Martin of the Society of Jesus must be possessed by the Devil, Satan himself. No Catholic priest, servant of Our Lord Jesus Christ could every state that which this wretched man does without being possessed by the Evil One.

Martin and his cronies who leave comments here will no doubt call me a "hater."
The truth is this; the real "hater" is James Martin. Martin hates himself, he hates Christ and His Church and the truth. He hates the men trapped in a sorrowful and suffering life of homosexuality. These men deserve our love because they are children of the same God. They deserve the truth, that the God who loves them does not expect them to live as they do. They were not born this way. Those who believe, this, who promote this, are liars.
In the Fordham interview, with Patrick Hornbeck, the Chairman of the Department of Theology,

Hornbeck

makes it clear that he is "married" to his "husband." How has Timothy Dolan, Cardinal Archbishop of New York not removed this man from his position? Let him sue. Take the lawsuit, pay him if you have to, but get him out.
In the interview, Martin states:
"He (a former Religious and friend of Martin) came out and has been with his partner for 20 years. His partner has a fairly serious illness that is at times extremely serious and requires a lot of attention. Mark has cared for him for, I think, 15–20 years now. And one of the questions I would like the institutional Church to reflect on is: 'Is this not love?'
"I have a hard time imagining how even the most traditionalist, homophobic, closed-minded Catholic cannot look at my (active homosexual) friend and say, 'That is a loving act, and that is a form of love that I don't understand but I have to reverence."
Martin dares to use the word "reverence" which has as a synonym, "adoration," something due only to Almighty God and states that we need to use this proper reverence to the people who practice acts of depravity.
Let us be clear, Martin has set up a "straw-man." He wants you to believe it is all about "love." Of course, one friend should care for another in his sickness, that is what we should all do. But notice how this deceitful priest blends that idea of fraternal love with sodomitical debauchery. What does he think these two men do? It is not about "love."
James Martin is on his way to Hell. He must repent publicly of his grievous error and do penance. He must live a life of quiet reparation for what he has done to so many souls. Objectively speaking, if James Martin dies tonight, he will end up in Hell. He will be greeted there by those whom he deceived and joined sooner or later by those who failed to correct him.
Martin may interpret this as hate. The truth is, it is out of love for him and his priesthood that this is written.