W
ith a stroke of the pen, Pope Bergoglio has struck down the work of John Paul II and Benedict XVI in Liturgiam Authenticum and the Third Typical Edition of the Roman Missal.
https://rorate-caeli.blogspot.com/2017/09/breaking-motu-proprio-magnum-principium.html
https://www.americamagazine.org/faith/2017/09/09/breaking-pope-francis-gives-local-bishops-more-responsibility-mass-translations
No doubt, as a payback to the Germans and others who simply refuse to translate, "pro multis" as "for many" and continue to disobey the order of Benedict XVI to translate it properly, Bergoglio has thrown the matter of translations to the bishops. It would seem unlikely that the English speaking bishops, after all the time, stress and money spent since 2011 on the more correct translation of the Novus Ordo Missae, would return to the former, but they may allow it as an option. The Third Edition of the Roman Missal is still only in Latin and English. All others, to this day, use the 1974 Missal.
Make no mistake, along with the deviations allowed in Amoris Laetitia from place to place, this action by the great liturgist Bergoglio will lead to an even greater disunity within the Catholic Church.
Whether or not Bergoglio has the right to do this is not the question. It is a notorious act on the part of this man and his filthy minions. The photo below is of this Bergoglio in Colombia. Look at him, he bypasses the kneeler to stand before the Lord Jesus Christ in the Blessed Sacrament.
How can he do this? How can this man not kneel? Yet, Catholic modernists, as is already happening on Twitter, will overflow with effervescent praise for this divisive and destructive action on the part of this man.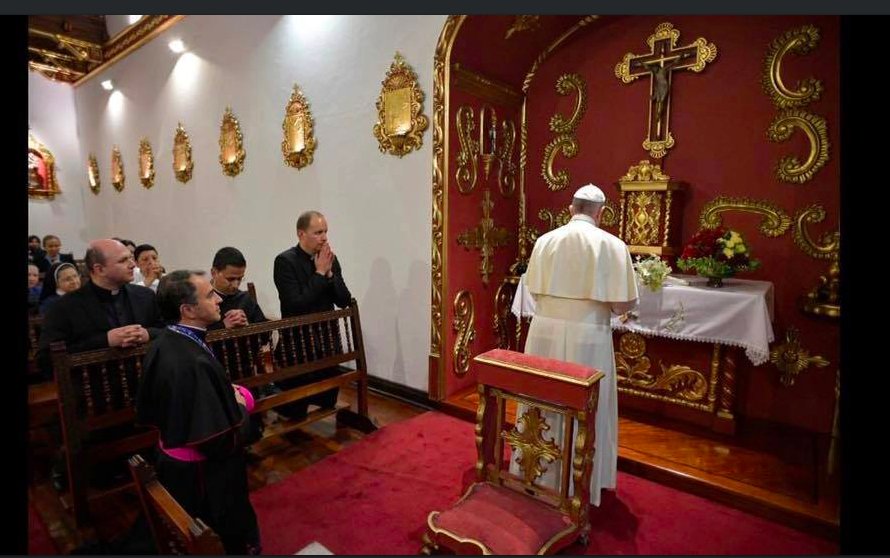 It is just one more reason to abandon the bastard rite. A so-called "Mass" that is different from country to country, diocese to diocese, parish to parish and even within the parish from different priests. Notwithstanding the narrow line that makes it valid, this rotten fruit of Paul VI is unstable, it is irreligious, it is not proper worship to Almighty God, it is horizontal, man-centred, ecumenical and masonic.
This Bergoglio will not stop at this, it is only the beginning.
Get out of it and get to the traditional Mass even if that means that the only choice is the Society of St. Pius X. Your faith and that of your loved ones depends upon it.