T

his post will no doubt be controversial to many. It is not my intent to offend. I am not stating that Sister Faustina is not a Saint nor that she did saw an apparition of whom she thought was Jesus.
NOTA BENE: Tuesday, April 10. I was correct, it was controversial and some found it offensive; and yet, there are many who agree with me. I put this devotion in the same place as Medjugorje. I don't believe either but if God brings good out of what was a fraud, then that is His perfect will. The fact is, there was a reason it was banned and a Polish Pope who undid it not just be enshrining it but by having it unbanned decades earlier, to be studied. When I first saw the image, I saw the Polish flag and still do. You can believe that it was a real apparition, but it is in the realm of private devotion. It has debased Fatima and the Sacred Heart.
How ironic is it that on a Sunday where in the Gospel of the Mass we recall the actions and words of St. Thomas the Apostle where he literally places his fingers in the wounds in the hands and sides of the Lord Jesus and then proclaims, "My Lord and my God," we find the day has been co-opted by the cult of Divine Mercy and a Jesus who has no wounds.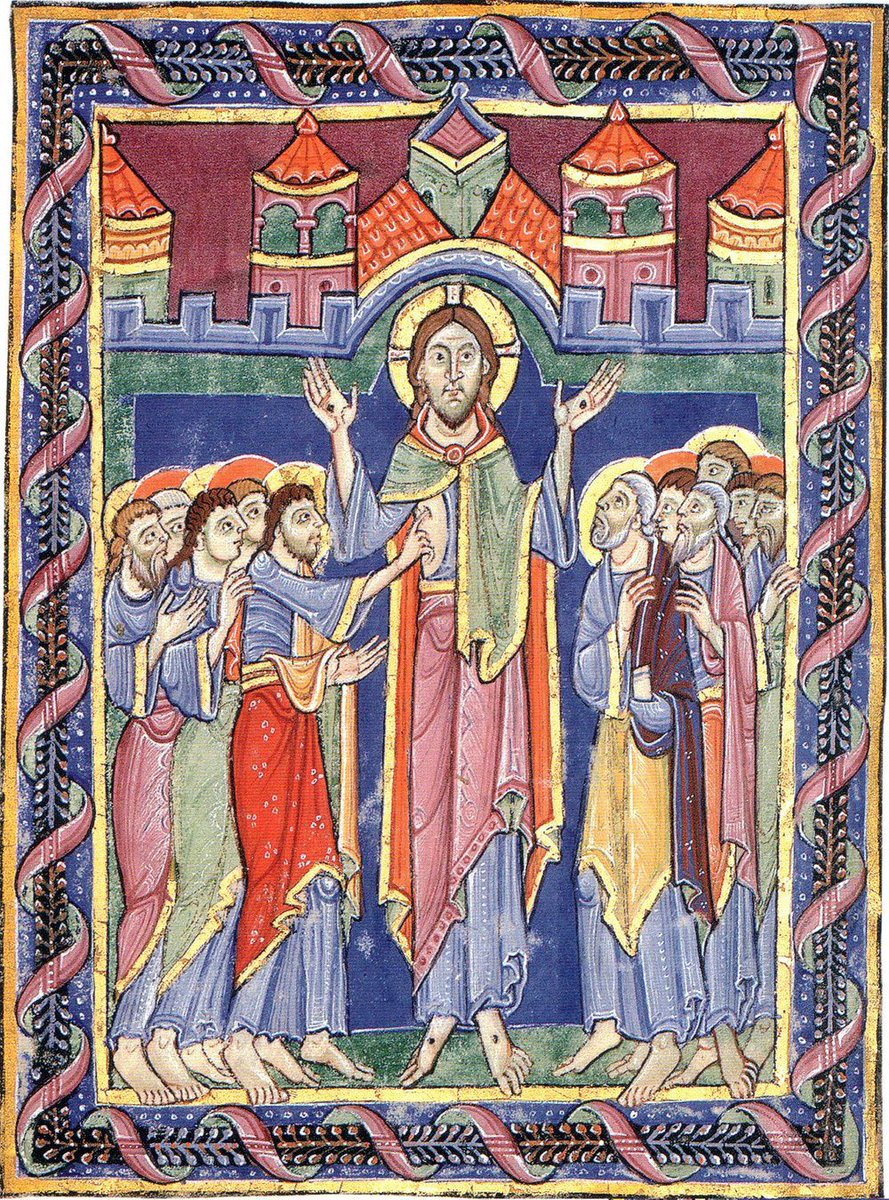 Think of two hymns. That Eastertide With Joy Was Bright; -- "He showed to them His hands, His side, where yet those glorious wounds abide. Alleluia." Think of the great Advent hymn, Lo! He Comes With Clouds Descending, "Those dear tokens of His passion, still, his dazzling body bears, ... with what rapture, gaze we. on those glorious scars."
The Venerable Saint Bede (commenting on Luke 24) taught that Christ kept His scars.
First and chiefly for Christ's own glory. Christ "wears [His scars] as an everlasting trophy of His victory."
Second, these scars confirm the hearts of the disciples in the faith in His Resurrection. The scars increase our faith.
Third, Christ retained his scars so "that when He pleads for us with the Father, He may always show the manner of death He endured for us." They have propitiatory signification in Heaven!
Fourth, Christ kept His scars so "that He may convince those redeemed in His blood, how mercifully they have been helped, as He exposes before them the traces of the same death." This reveals that He is the Divine Mercy of God!
Fifth, Christ will appeal to His wounds so that during the Judgment Day "He may upbraid them with their just condemnation." The holy wounds will silently sentence the damned to Hell.
It has always been the teaching of the Church that Christ's glorious wounds remain.
When Our Blessed Lord appeared to St. Margaret Mary Alacoque she testified of the visibility of His wounds.
Did Sister Faustina see Our Lord Jesus?

If she did, where are His wounds?

She was apparently so insistent with the painter, how did she not insist on the presence of His wounds?
Why has "Divine Mercy" been allowed to surpass the Most Sacred Heart?