I

n a retaliatory move better suited to some dollar-store novel, the Holy See Press Office under Father Federico Lombardi has stripped Magister of his press credentials. Father Lombardi called the "leak" of the Laudato si, a "heinous act." Frankly, I would be more impressed if he called abortion or the slaughter of Christians by Islamists or the vote for sodomite marriage in Ireland a "heinous act" but to each his own, I suppose. I find the Church's action against Magister as "heinous" and disgraceful.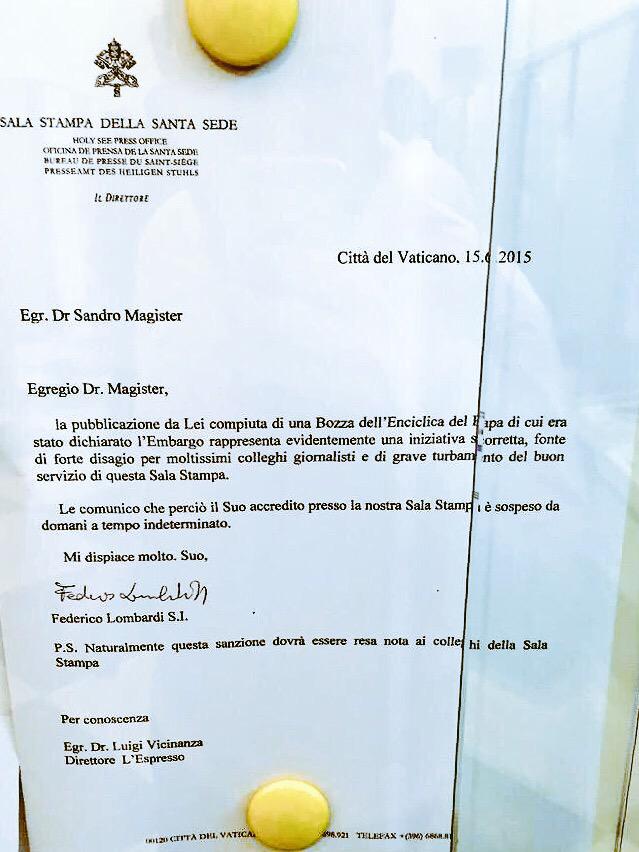 Commonweal is reporting that in fact, there was no embargo on Magister who "got his copy from an unofficial source (obviously curial) who imposed no restrictions on its use."
Sandro Magister was under no obligation to protect the information since it was not a final copy and no embargo was imposed on him. In fact, the embargo only begins two hours before its release when it will be given to reporters. This stripping of his credentials is without justice because the embargo does not yet exist.
This is what the Church and its "leadership" deserves when they stop teaching salvation and calling all to Jesus Christ and instead takes up with Malthusians and embraces the world.
There was once a tropical Greenland and fossils of palm leaves in northern British Columbia and Alaska. It was once very warm there and fossil fuels had nothing to do with it.
But don't tell Francis that.
St. Francis of Assisi, intercede for us, because they always forget the last verse:
Praised be You, my Lord through Sister Death,
from whom no-one living can escape.
Woe to those who die in mortal sin!
Blessed are they She finds doing Your Will.
No second death can do them harm.
Praise and bless my Lord and give Him thanks,
And serve Him with great humility.