The entire commentary can be found at Zenit as translated by my good friend,.Thomas Rosica.
After reading this, as I was alerted by a reader, I can only conclude the validity of my original words, -- that this is "Jesuitical arrogance" and "idiocy" and pure, unadulterated modernism where one can make purely orthodox statements about the devil and the supernatural and then plant within the poison of "grey" areas and how to "go beyond the law."
One drop of poison in a glass of water poisons the whole glass.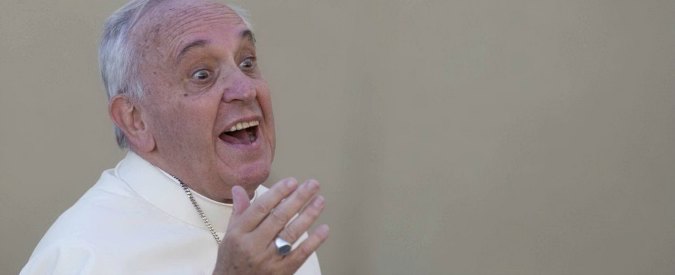 W
orld Youth Day and the mind and mouth of Jorge Bergoglio; the gift that just keeps on giving whether we want it or not. We must really thank his Jesuit brother, Anthony Spadaro. Without this Jesuit's arrogance, we would not know of the idiocy coming from the mouth of this Bergoglio.
What curse is upon the Catholic faith that God has permitted the stupid men in red from giving us this man as Pope. For our sins and our sacrilege has led to the Church and Faith now being persecuted from within and from the very top, from a Bishop of Rome that is trapped in an era of error in critical thinking, in Catholic faith and formation and in theology.
This Bergoglio is truly a product of a corrupted Jesuitical formation which began, at least in the 1950's, and which has now come to fruition with one of its own in the Chair of Peter. What a destructive man this Pope is. At one time, many of us tried to give him the benefit of the doubt, He is feeble-minded, or suffering from some kind of dementia.
He is of sound mind. A mind that is poisoned and has been poisoning others since that very day of his ordination and what he wishes to foist on the next generation of priests until the faith is dead!
"the seminarians, when they become priests, find themselves in difficulty in accompanying the life of so many young people and adults." ... "And many people leave the confessional disappointed. Not because the priest is bad, but because the priest doesn't have the ability to discern situations, to accompany them in authentic discernment," ... "They don't have the needed formation." ...

"I repeat, you must teach this above all to priests, helping them in the light of the exercises in the dynamic of pastoral discernment, which respects the law but knows how to go beyond," "We need to truly understand this: in life not all is black on white or white on black," ... "The shades of grey prevail in life. We must them teach to discern in this gray area."
Poor babies are disappointed in that the priest did not tell them that they could go on watching pornography, masturbating, fornicating and engaging in sexual deviance with a person of the same-sex or that living with that other woman when their wife is left behind is adultery. Too bad the good priest could not see the grey and told the poor stupid youth that they will go to Hell!
O LORD, save your people. Save us from these malefactors in fine garments who have invaded your Church.