P

reviously, we reported on pervert Deacon William Kokesch of Montreal. Kokesch was arrested in 2012 on child pornography charges and convicted in March of 2015 to serve "two years less a day" meaning in a provincial, not federal, institution. Though posting on it back when he was charged, I had neglected following up on it. Sylvia's Site contains all the documentation of this violator of children and disgracer of the Church of Our Lord Jesus Christ in Canada.
Whilst doing some
research this morning
on an unrelated matter, I found that Kokesch's name
still appears on old press releases and web pages at the Canadian Conference of Catholic Bishops
.
It took significant lobbying by Barona at Toronto Catholic Witness to then President and Edmonton Archbishop Smith to get the name of child pornograhic pervert and former Bishop of Antigonish Raymond Lahey's name off the site.
Why does Bishop Crosby of Hamilton, now CCCB President permit Kokesch's name to still remains there?
Has this Deacon been laicised?
What is it about the Church in Canada and the Canadian Conference of Catholic Bishops that manages to hide and protect such perverts such as Lahey, Kokesch and other bishops and monsignors who have suddenly disappeared from their dioceses under confusing and ill-defined circumstances?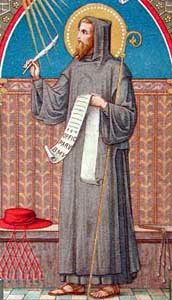 St. Peter Damian
Three more come to mind, former Auxiliary Bishop John Knight of Toronto and former Rector of Toronto's St. Augustine Seminary and Bishop of St. Catharines, James Wingle. Then of course, there is Gordon Davies a former Dean of Studies at St. Augustine's Seminary in Toronto, famous there for his body-building equipment in his room at the Seminary.
Lest you be too worried about St. Augustine's Seminary, that was a long time ago, the 70's and 80's are long gone. There were many Toronto priests ordained during that period who survived from those perilous days and are solid in their Catholicity, morality, liturgy and preaching, in spite of the days of the "Butterflies and Machos." The current crop of Seminarians are a bunch of rosary praying, scapular wearing, men on fire for Our Lord Jesus Christ. The previous Rector and Deans of Studies (two of whom I know) and the current Rector and Faculty are solidly Catholic and well formed. We have much to be thankful for under Thomas Cardinal Collins.
Some people believe that talking about these things creates scandal. In fact, it is not talking about them and covering them up that is the real scandal. That era in Toronto under Pocock, Carter in particular were dark days before the Internet and before the awakening of Catholics to the scandal around them.
Fox and I have begun reading St. Peter Damian's classic work, The Book of Gomorrah. We've been struck by how little has really changed after a thousand years. What is also revealing was his clarity and aggressiveness in calling out the corrupt popes and clerics to their faces. Given what we've seen coming out Rome for the last while, I think he would have done the same.
If St. Peter Damian were alive today, he would have a blog.
Msgr. Alan McCormack Named New Judicial Vicar of the Canadian Appeal Tribunal
(CCCB-Ottawa) Msgr. Alan McCormack, P.H., of Toronto has been appointed Judicial Vicar of the Canadian Appeal Tribunal (CCCB). He succeeds Rev. Pierre Allard, S.M., who retired last October, and Interim Judicial Vicar Rev. Thomas Cassidy, O.M.I., who will continue in his function as Associate Judicial Vicar. The Tribunal is the judicial arm of the Canadian episcopacy dealing exclusively with marriage cases forwarded by "first instance" or diocesan tribunals.
Born in Toronto in 1946, he was ordained to the priesthood for the Archdiocese of Toronto in 1978 and named chaplain to His Holiness in 1984 and then a Prelate of Honour in 2002. He has served in many capacities in the Archdiocese from 1975 to 1993, including judge of the Metropolitan Tribunal, episcopal vicar for canonical affairs and Vice-Chancellor.
He also served at the Congregation for the Doctrine of the Faith (CDF) in Rome from 1997 to 2003 and continues as a member of the CDF's Matrimonial Commission.
Msgr. McCormack holds a doctorate in canon law from the Pontifical Gregorian University in Rome and has studied at the Catholic University of America, Saint Paul University in Ottawa and the University of Toronto.
The Canadian Appeal Tribunal was established by the Canadian Conference of Catholic Bishops in 1984, with the approval of the Apostolic See. It is a national tribunal – the only "second instance" tribunal in Canada. After thorough study and, if necessary, additional evidence, the Appeal Tribunal confirms or reverses the "first instance" decision. The work of the Tribunal is both judicial and pastoral.
---
For More information Contact:
Deacon William Kokesch
Director, Communications Service